Please Refrain From Writing Articles for A Fiver.
Please Refrain From Writing Articles for A Fiver: A note to aspiring freelance writers. I submitted my work sample to a client yesterday, hoping she would like it and hire me.
Half of what I predicted came true.
The client liked my work sample, but I was not hired.
Yes! Because I turned down the offer. And the reason was self-evident.
She planned to charge $5 per 1000 words for the long-term project.
Oh boy! What am I supposed to do for $5 to write a 1000-word article?
The niche was based on kitchen thermometers, which I'm unfamiliar with. A 1000-word example took me 4 hours of a thorough investigation. If I had accepted the project, I would have received $5 for 4 hours of work, or $1.25 per hour. That's even less than the minimum wage at your current job.
I gently denied her offer, telling her that $5 was insufficient.
My advice to aspiring freelance writers is.
I'm a new freelance writer who has only recently begun working with clients. However, after more than a month of submitting bids and engaging with various clients, I've discovered that some clients want you to write for $5.
They have this thought in their heads. "Oh! He's a newcomer. He can't say no to this offer."
Consider this: Can you work on a project that pays less than your current employment for an extended period? You can't do it. What's the point of freelancing, then?
You have a skill that should not be sold for a penny. And you don't have to be desperate for a job and disregard the money. Numerous clients will gladly pay you what you are worth (assuming your skills are good).
There was no need for me to work for $5 because I currently work for a client that pays me $11 for 1000 words. If not them, I know I'll find other clients who will pay me generously.
What should you charge for freelancing work?
I'll be frank. I'm still confused about how hourly rates are computed. I prefer to work for a set fee.
If you ask me how much you should charge for your words as a novice, I recommend roughly $0.02 to $0.03 per word. The bare minimum you can accept is $0.01, but not less.
Assume you start at $0.01 per word and write 2000 words daily for a month. You will then make $600 each month from a single client. And if you discover a few customers, expect more.
You see, even at the minimum wage, you make a decent living.
That is what you should budget for. Always remember: if I take this low-paying job, would I be able to work at this wage for a long time? If not, don't be afraid to decline the offer. You have skills on which you can rely. You'll find another customer.
As a newbie, getting started is important, but staying below your rate is not. It's not worth your time or effort.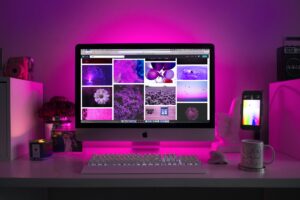 Obtain free traffic by placing Fiverr orders.
Fiverr is an excellent method to supplement your income online. Fiverr, along with Upwork, is one of the most popular websites for freelancers, and there is a range of things you can do and make money from. These include editing, graphic design, writing and proofreading, and even Santa Claus!
When I first started posting gigs on the platform, I struggled to obtain impressions and hits.
New sellers are already disadvantaged in freelancing because they must first earn anything before becoming level one sellers. Their gigs are moved down in the search bar compared to more experienced vendors.
Though you can expect your first order to arrive eventually, once you do, you must provide outstanding service, answer swiftly, and hope that people give you a 5-star review when you're finished.
The more evaluations you get, the more confident you'll be, and it's also crucial to respond to messages as soon as possible because these people could be potential clients.
Promote your events via digital marketing.
Social networking is the way of the future and the most effective way to promote anything. Facebook is the ideal place for promoting your gigs. Simply typing "Fiverr Gigs" into the search field will bring up many groups promoting their gigs and swapping favourites with yours.
Traffic is essential, especially if you're starting, and there's no better way to get it for free than to promote your gigs in Fiverr Facebook groups.
Quora, Twitter, Pinterest, Reddit, and LinkedIn are some other venues where you can market your gigs.
Cold-calling tiny content creators through email to ask if they need a specialised job, such as an editor or SEO engineer, is a practice that is no longer discussed but can't hurt.
Don't overdo the advertising, and don't spam your gigs so much that it becomes a habit, but reply to requests for sharing gig favourites and views.
The post Please Refrain From Writing Articles for A Fiver appeared first on https://gqcentral.co.uk